Spent the day in Saratoga!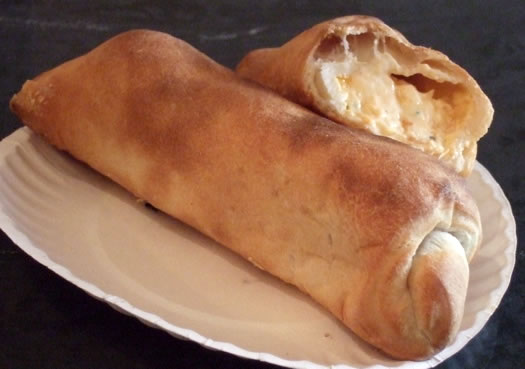 (thanks to All Over Albany for the pic as I forgot to take one)
Oh the Doughboy, how I love you! Doesn't look too amazing but let me tell ya… these puppies are awesome. Three cheeses, chicken and scallions blended together and cooked in pizza dough…mmmmmmmmmmmmmm!! Typically they are something you consume after a full night of drinking but even when you are stone sober they are fabulous. Esperanto in Saratoga NY is the place to get em! Located on Caroline St, the ever famous party street, Esperanto is perfectly situated.
Chocolate Espresso Cupcake (chocolate cake drenched in ganache)
Chocolate Chip Cookie Cupcake (vanilla cake with vanilla butter cream and a ball of cookie in the middle!)
After the Doughboy a trip to the newly opened Bettie's Cakes was in order. We walked in to a super retro looking cupcake bakery complete with sexy ladies in dresses, high heels and pearls. Loved it! Their cupcakes and beverages come in "cup" sizes. A is the smallest, B is medium, and C is large. CLEVER! The cupcakes and coffee were definitely worth the trip and I will be back soon!!
Also noteworthy was the trip to Putnam Market, that place always amazes me. So many hard to find wonderfully tantalizing treats! Today I purchased, date rolls which were topped with an almond and rolled in coconut, delicious! I also found some chocolate with bacon, which I bought as a Christmas present for one of my bacon loving friends. And some sour cherry jam for my dad, he loves the stuff!
All in all a very successful and fun day!